Hello there, Dr. Tate here. First off, I want to tell you what an honor it is to be working at Kids Town Pediatric Dentistry. Back in 2012, I started working for Kids Town as a dental assistant, knowing then that I wanted to become a dentist, but not knowing that pediatrics was a specialty. Not too long after I began working at Kids Town, I knew without a doubt that pediatric dentistry was my calling. That certainty was largely due to my experiences at Kids Town. Seeing how the doctors truly care for all the kids as if they were their own, and the respect they have for their employees, made it easy for me to decide that being a part of Kids Town was my future.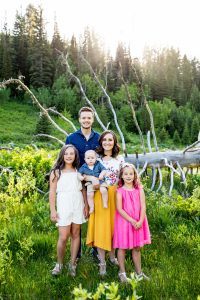 After I finished my undergraduate degree at Weber State University, I attended the University of Utah for dental school. About two years into dental school, I met my beautiful wife, Nicole, and became an insta-dad to two equally beautiful daughters, Brooklyn and Taylee. Not too long after that, our handsome little boy, Tatum, was born. Once I completed dental school, I was fortunate to be accepted to and subsequently graduate from a pediatric dental residency in Yakima, Washington, a satellite NYU Langone program, where I received an extensive education in pediatric dentistry.
I love interacting with kids and making their dental experiences fun and enjoyable. I look forward to seeing you and your kids at their next dental check up!