Meet Our Dentists
Dr. Renn Veater
I always knew that I wanted to follow in the footsteps of my father and pursue a career in health care, but I never knew which profession was right for me. Growing up in a small, rural town, I had limited exposure to the different fields of health care available to choose from. We had one dentist in my hometown, and that is where everyone went for all their dental needs. I was unaware that the specialty of pediatric dentistry existed. It was while studying at Southern Utah University that I began shadowing a pediatric dentist. Almost immediately, I knew that this was the right choice for me.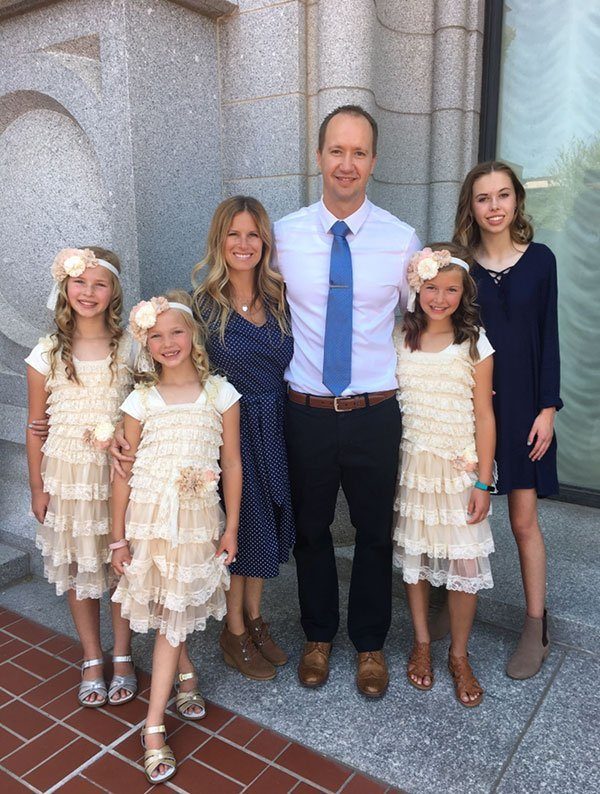 Pediatric dentistry is both challenging and rewarding. We not only have the responsibility to provide our patients with the highest quality of dental care, but we have the opportunity to help them develop a positive attitude about going to the dentist. Their experiences with us at a young age could lead to a lifetime of regular oral health care.
As the father of four daughters, I understand what an important decision it is when it comes to the health of your children. At Kids Town Pediatric Dentistry, our mission is to treat our patients the same way we would treat our own children. We accomplish this by recommending the same treatment for your child that we would provide for our own child under similar circumstances.
We look forward to working together with you to provide your child with the best oral health care possible.
Dr. Brett Packham
Hi, I'm Dr. Brett, and welcome to Kids Town Pediatric Dentistry! I have been around kids my entire life. Being the oldest of six children, I had many opportunities to babysit and interact with younger siblings. I was always told I had a great way with kids. It wasn't until a professor in dental school told me that I had a gift with children and that it would be a disservice to dentistry if I didn't work with them that I realized working with kids is one of my life's true passions. My partner Renn Veater and I started Kids Town Pediatric Dentistry in September of 2010. Although we have grown to three offices in Weber and Davis County, we are a family-owned business and take pride in the individual service and attention we provide each child who walks through our doors.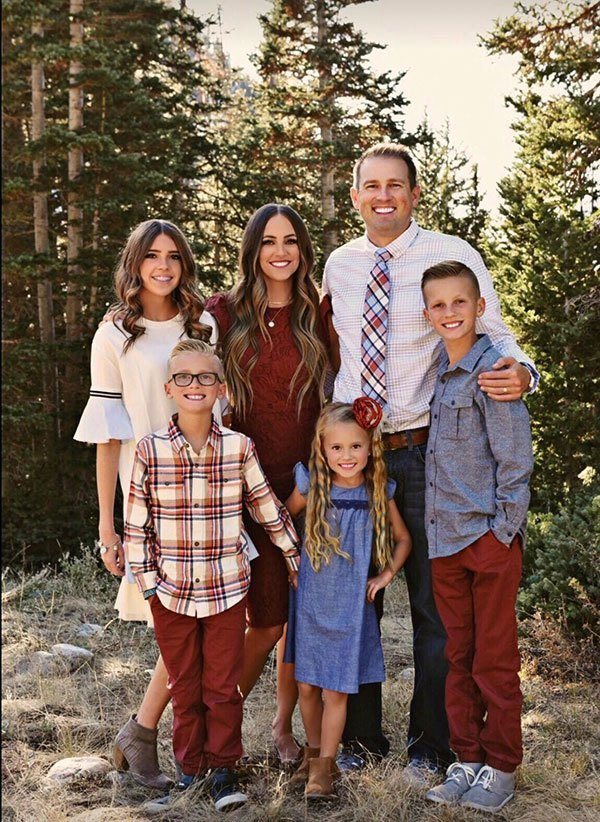 I love pediatric dentistry and the variety each day brings with all of the fun and sometimes challenging personalities I work with. One of my greatest rewards as a pediatric dentist is watching a child start an appointment extremely scared and anxious but by the end of our time together is giving high fives and big smiles. It is awesome to see them leaving the visit feeling proud of their accomplishment.
Through extensive training at Primary Children's Pediatric Dental Residency, I truly feel comfortable treating any dental situation that comes through our doors. Thank you for trusting me and the doctors here at Kids Town to take care of your child's dental needs. Having four children of my own, I understand the importance of finding a provider that you trust to take exceptional care of your child regardless of the care they may need. Here at Kids Town, our mission statement is that we will always care for your child as we would our own.
Dr. Chad T. Eardley
Hi, I'm Dr. Chad, the newest member of the Kids Town team. I am excited to get to know you and your families and be part of the Davis and Weber County communities.
I am a Utah native, born and raised in the Four Corners community of Monticello.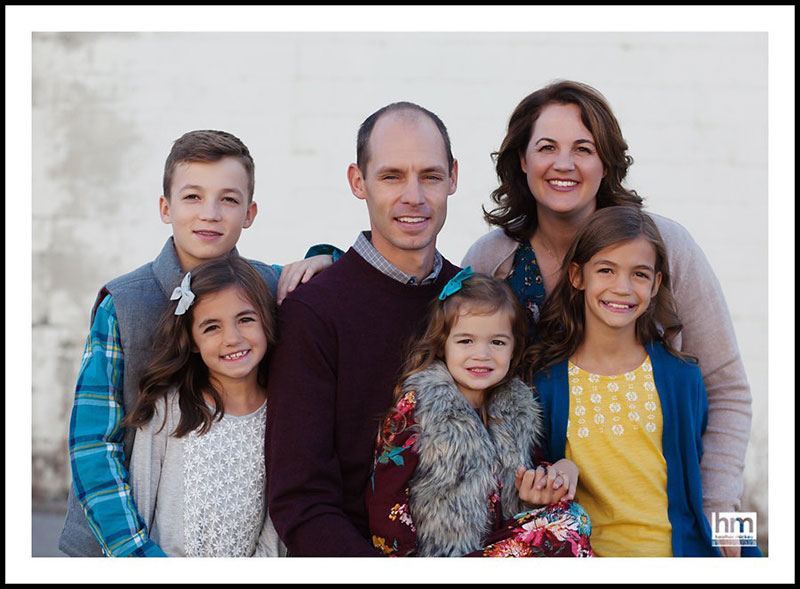 While earning my DMD degree from the Arizona School of Dentistry & Oral Health, I was commissioned as an officer in the United States Army. Over the past decade, I have lived in a handful of states and had multiple overseas assignments, most recently in Italy where I was fortunate to serve as Chief of Pediatric Dentistry for the Vicenza Dental Clinic Command. I am Board Certified by the American Board of Pediatric Dentistry, and I earned my specialty degree from Texas A&M / Baylor College of Dentistry.
Pediatric dentistry is the best specialty in our profession, hands down! The next generation is full of amazing young people, and it's exciting to be around them. I love opportunities to make a positive impact in their lives — dental-related or otherwise. My goal when working with your children is to put their safety first, educate, empower and guide them toward oral health, and have them look forward to their dental visits! Forming good habits early sets the stage for a lifetime of dental wellness. I look forward to partnering with you to create those lifelong healthy habits and smiles.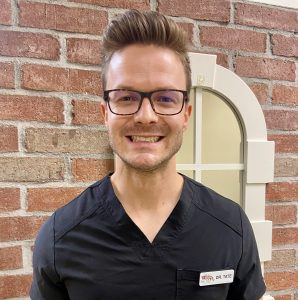 Dr. Tate Trujillo
Hello there, Dr. Tate here. First off, I want to tell you what an honor it is to be working at Kids Town Pediatric Dentistry. Back in 2012, I started working for Kids Town as a dental assistant, knowing then that I wanted to become a dentist, but not knowing that pediatrics was a specialty. Not too long after I began working at Kids Town, I knew without a doubt that pediatric dentistry was my calling. That certainty was largely due to my experiences at Kids Town. Seeing how the doctors truly care for all the kids as if they were their own, and the respect they have for their employees, made it easy for me to decide that being a part of Kids Town was my future.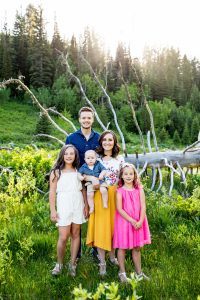 After I finished my undergraduate degree at Weber State University, I attended the University of Utah for dental school. About two years into dental school, I met my beautiful wife, Nicole, and became an insta-dad to two equally beautiful daughters, Brooklyn and Taylee. Not too long after that, our handsome little boy, Tatum, was born. Once I completed dental school, I was fortunate to be accepted to and subsequently graduate from a pediatric dental residency in Yakima, Washington, a satellite NYU Langone program, where I received an extensive education in pediatric dentistry.
I love interacting with kids and making their dental experiences fun and enjoyable. I look forward to seeing you and your kids at their next dental check up!
See you at your next checkup!

Meet Our Team
We are a friendly, professional team of 32 people at Kids Town Pediatric Dentistry. Together, we provide compassionate dental care to Roy, Layton and Syracuse, Utah. Our fun team loves to work with children, and we care about providing a safe, enjoyable environment for all. While at our office, we will take care of both your child's oral hygiene needs as well as their personal needs. On our team, we have a few Spanish speakers and one Bulgarian speaker. Let us know if there is anything we can do to better care for your family. We look forward to meeting with you soon! Call our office at 801-217-3359 to set up your appointment.